Next step collaboration Fieldlab Industrial Electrification and Plant One Rotterdam
On Wednesday 15 June, Plant One Rotterdam took a follow-up step in its customer relationship with Fieldlab Industrial Electrification (FLIE) through financial support. The fieldlab works with national and international partners to accelerate industrial electrification into practice. The sponsorship by Plant One Rotterdam is an important, next step in the collaboration that started late last year by establishing the Fieldlab on the Plant One Rotterdam site. With this cooperation, both parties aim to make more impact on accelerating the energy transition.
In February 2021, the Fieldlab launched a Solution Centre on the RDM campus in Rotterdam to advise companies on financing, regulations and guide feasibility studies. From January 2022, the FLIE will be located on the grounds of Plant One Rotterdam. This is because here, technologies can be tested at an industrially relevant scale in a practical environment and taken to a higher TRL than at other locations. A pilot at the Fieldlab helps to understand how electricity can be used to make specific industrial processes more sustainable. This form of testing is of interest to industrial end-users looking to implement new technologies, as well as technology providers looking to demonstrate their innovations.
"The Network and its knowledge complement each other perfectly."

Peter van Hooft (Deputy Director Fieldlab Industrial Electrification)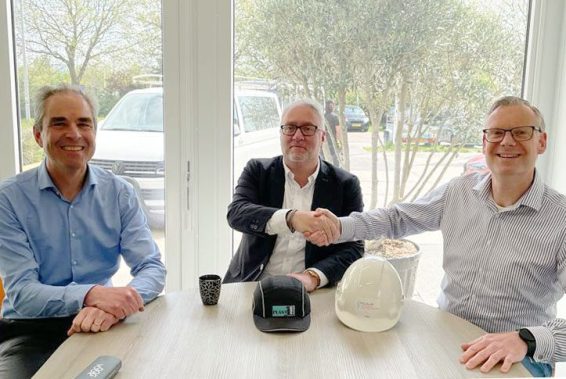 FLIE and Plant One Rotterdam are a very good match. Both parties share the same ambitions around the industrial energy and materials transition. "The network and knowledge present complement each other perfectly. For instance, Plant One provides the right infrastructure and facilities needed to realise the pilot projects. They possess additional knowledge and experience for scaling up set-ups and have environmental permits for wide range of innovations. Finally, the central location in the Rotterdam Port & Industrial Cluster is a success factor." Thus Peter van Hooft, (Deputy Director).
"By the way, the cooperation goes far beyond the provision of space and utilities. We are very happy with the umbrella licence, but also with Plant One's engineers, who are experienced in building set-ups. And the operators who will soon be operating the systems." Gabriel Tschin (managing director of Plant One Rotterdam) adds: "The activities from the Fieldlab Industrial Electrification are a nice addition to the topics we are already working on practically. Think about circularity, sustainability or CO2-reduction. Together, we can put the topic of electrification even better on the map. We are happy to put our practical approach and expertise to work to achieve that goal."
Flywheels, hybrid boilers and so much more
The FLIE will feature three types of technologies that fit the cluster and can be demonstrated in practice. These are techniques in the field of industrial heat, incorporation of green hydrogen and direct conversion of CO2, all of which use renewable electricity. Think of a flywheel that can deliver energy as well as capture and store it. Or a hybrid boiler, which can replace steam from natural gas with steam from renewable electricity. With a diverse range of electrification solutions, the FLIE is the ideal venue to find out what is the right technology fit for a company.
"Together, we can put the topic of electrification better on the map. We are happy to use our practical approach and expertise to achieve that goal."

Gabriël Tschin (managing director of Plant One Rotterdam)
More information and contact
The Fieldlab Industrial Electrification is a joint initiative of Deltalinqs, FME, Port of Rotterdam, InnovationQuarter and TNO and is closely supported by the province of South Holland, the municipality of Rotterdam and the ERDF grant. Companies and suppliers interested or wanting to get started directly with industrial electrification or decarbonisation can contact info@flie.nl. More information can be found on the website: www.flie.nl
Plant One Rotterdam B.V. is an independent innovation centre that provides all facilities for companies and research institutes to demonstrate their innovative ideas for sustainable(er) technology on an industrial scale in a safe environment. This allows not only technical but also commercial feasibility to be demonstrated. Plant One Rotterdam has an umbrella environmental licence (Wabo), unique in the Netherlands. Tenants can benefit from this because the permit process per pilot only takes a few weeks instead of months or even years. Plant One Rotterdam distinguishes itself from other initiatives by its large-scale approach and focus on a wide range of technologies. This is made possible by a qualified and experienced team that provides all possible technical, operational, logistical and administrative support to completely unburden customers. More information on the website www.plantone-rotterdam.nl