Kinetic battery promising solution for businesses bogged down by grid congestion
Increasing grid congestion in some regions is making it more difficult for companies to expand. In addition, in other parts of the Netherlands, there is again a great need for flexibility thanks to the growth of solar and wind power generation. In both cases, it is through business to match energy supply and demand as efficiently as possible. Energy storage is an essential part of the solution. The kinetic battery, aka flywheel, is one of the promising storage technologies that the Fieldlab Industrial Electrification (FLIE) has been researching in collaboration with QuinteQ Energy.
By deploying the QuinteQ flywheel, infinite energy peaks and valleys can be stored and delivered. QuinteQ Energy - the Dutch developer and producer of the frictionless flywheel - and FLIE therefore launched a study on the most optimal application of this promising innovation in summer 2021. A feasibility study examined which (industrial) partners in the South Holland region would benefit and be suitable for a future pilot deployment of a flywheel, in order to accelerate the energy transition. Specifically, it looked at applications where the flywheel system (FESS) could offer great added value. It also looked at whether the flywheel in combination with other energy storage systems, such as a flow battery system, could support microgrids in industry on a broad scale. Feasibility, market, business cases, laws and regulations and potential test and demo sites were investigated.


The feasibility study first searched for the promising applications of the flywheel system. From this study, the electricity demand of terminals at port cranes proved to be a nice case study for the flywheel. Indeed, port cranes require substantial power peaks several times an hour during hoisting movements. The flywheel appears to have potential to supply the electricity demand of port cranes through peakshaving. With peakshaving, the peaks of your power consumption are supplied from storage technology, resulting in a net reduction in the need to supply high power peaks from the grid. The flywheel is able to handle these power peaks.

In this way, a large amount of CO2 emissions can be reduced at (inland shipping) terminals and transport tariffs can be lowered. In this case, the innovation makes it possible to take further steps in electrification with an existing grid connection, without the limited grid connection being an obstacle. So precisely in grid-congested areas, this industry can further electrify by using the flywheel.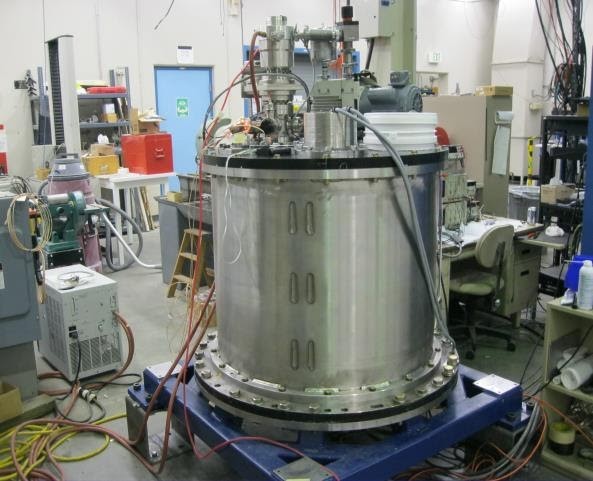 The Quinteq flywheel is compact and small and can be easily moved in a 20ft container.
In addition, it can handle many charging cycles, namely over 350,000 cycles. The flywheel has low losses and a long service life (+30 years).
The Fieldlab Industrial Electrification aims to explore and eventually implement electrification solutions to achieve CO2 reduction in industry. The next step within this project is therefore to practically test the technology at a demolition site. QuinteQ Energy, in collaboration with FLIE, is starting up these trajectories and is looking for companies - especially in South Holland - that are looking for suitable solutions for their electrification problem. Are you within your organisation looking for a solution to your electrification problem? Then get in touch with info@flie.nl.
Do you supply technology? Or are you looking for an electrification solution for your organisation?
Explore strategic opportunities and realisation of projects focused on process and supply chain integration, in cooperation with relevant supply chain partners. Participate in joint studies and projects that determine the future of this cluster and your customers, helping to implement the necessary technology.
Intended partners of the FLIE are organisations with an interest in making the process industry more sustainable. These could include:
End users looking to (partially) electrify their processes,
Energy companies looking to test new services,
Technology companies looking to demonstrate their innovation in practice or otherwise.
As a partner, you offer technical, content, administrative and/or financial support.