FLIE Matchmaking brings together supply demand during Recharge Earth
During the matchmaking session of the Fieldlab Industrial Electrification (FLIE) at Recharge Earth in Rotterdam Ahoy, end-user Indorama presented an issue from their own practice, where they are looking for ways to convert energy recorded in vapour streams into electricity. This topic attracted the interest of a wide audience, including end users from Industry, suppliers, engineering firms and representatives of educational institutions. This mixed composition resulted in an interactive session with sharp questions and a possible match that will be explored further.
The event started with an introduction about FLIE, presented by Peter van Hooft, FLIE director and moderator of the event. This talk also highlighted: connecting end users and technology providers in the industry is essential to innovate. This is eminently something FLIE can play an important role in.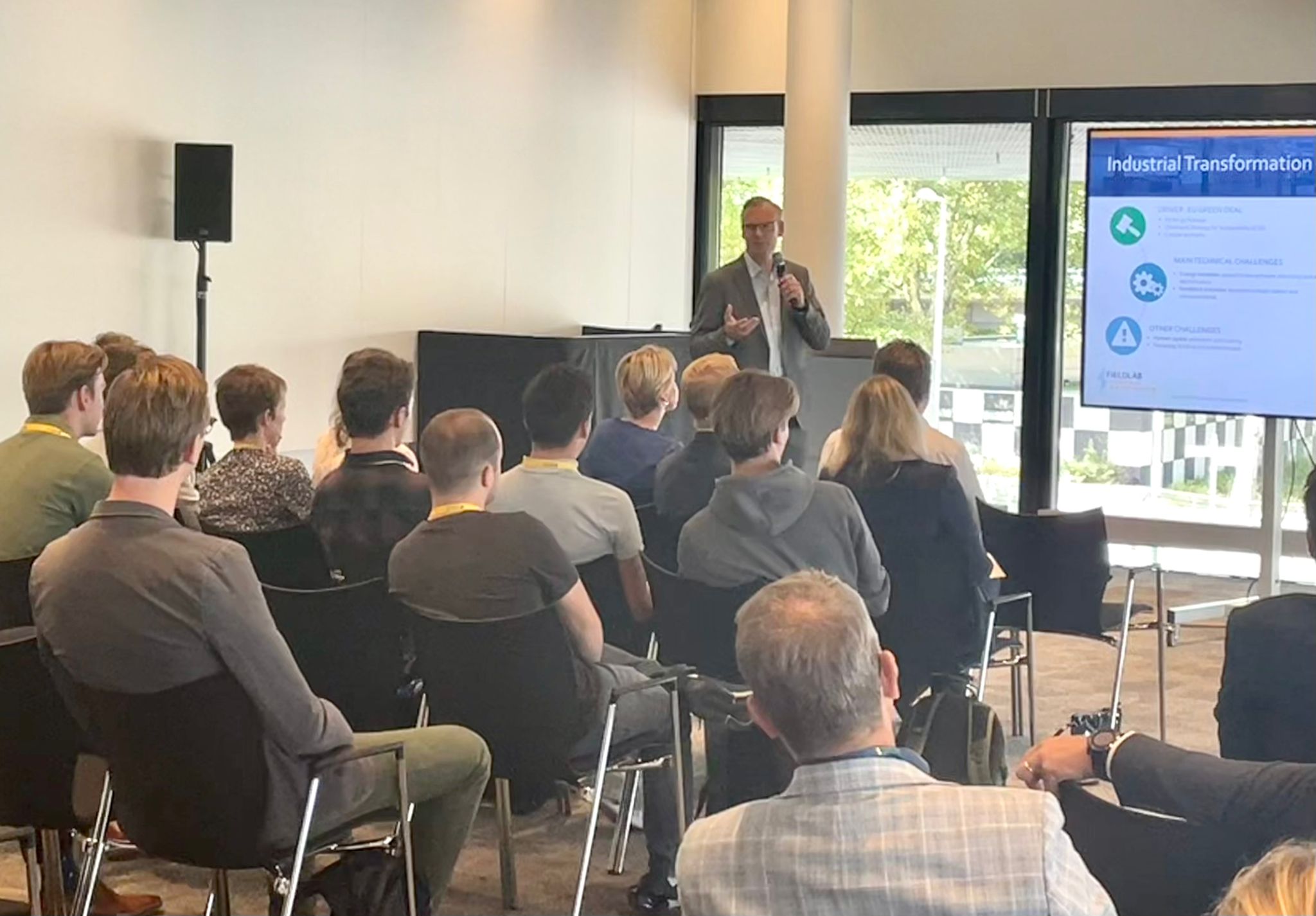 Case study: electricity from waste heat
Paul Staatman (Development Engineer at Indorama) took the audience through his issue. Indorama is a sustainable chemical company with operations in PET that is preparing an ambitious steam recompression programme to replace the existing CHP plant at its Europoort production site. As a stable supply of electricity is essential for the plant, it is looking for ways to convert energy absorbed in the vapour streams into electricity.
An ambitious goal, for which the right solution had not yet been found by the organisation. "In the chemical industry, waste heat from high temperatures can often be reused, although low temperatures are more common. However, these have no economic value so far. We prefer a viable solution to conversion efficiency," Straatman said of the issue. Read details of the issue here.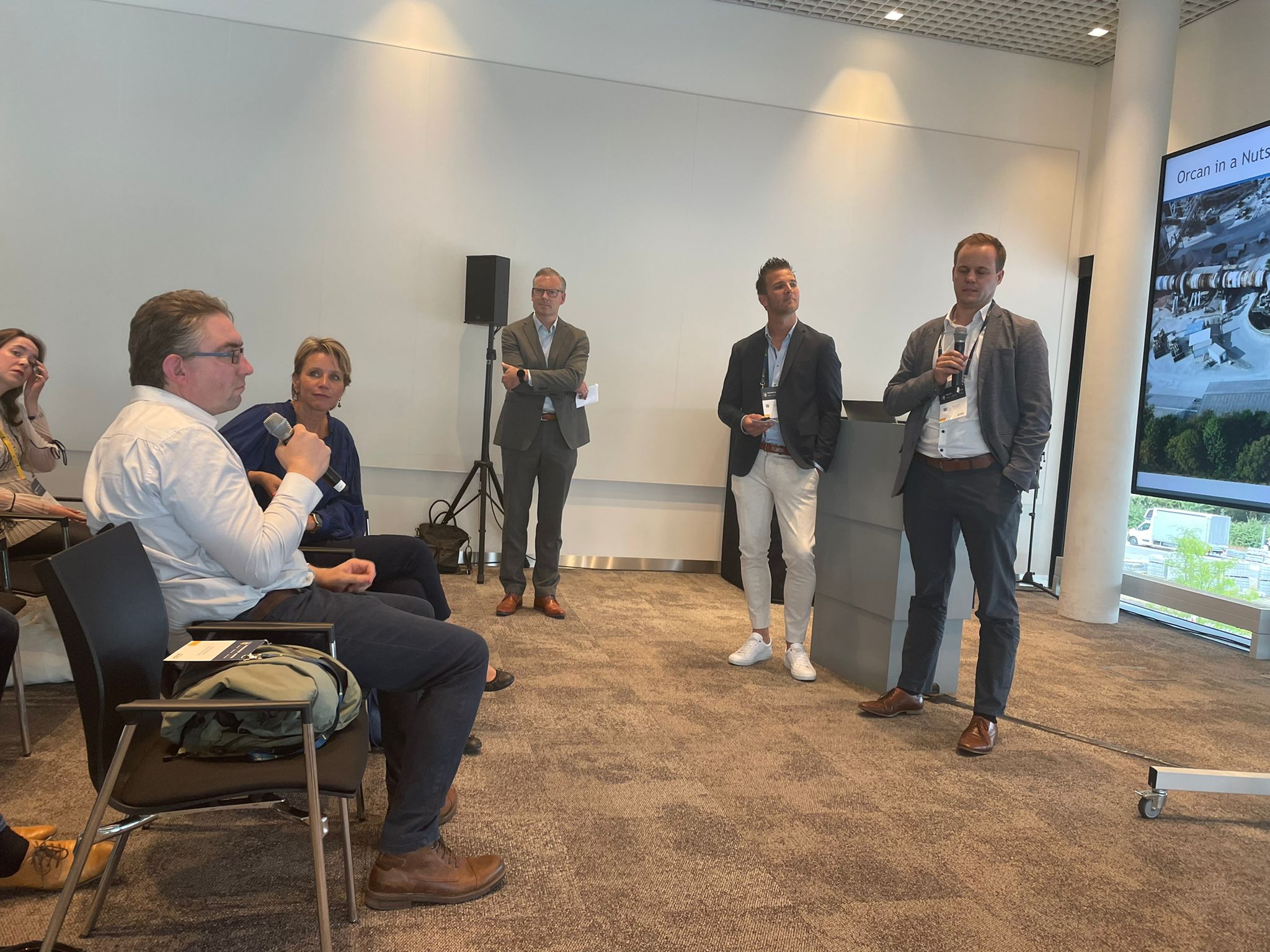 That working with these low temperatures is a niche also became clear during the search for a technical solution from FLIE. Nevertheless, we managed to find a pitcher, namely Orcan Energy. Orcan Energy provides components and other turnkey solutions to convert waste heat into CO2-free electric power for the Industry, Marine, Automotive, Power Generation and Biogas markets. "We work with plug-and-play modules, based on second-generation Organic Rankine Cycle technology," said Markus Lintl (Head of Industry & New Business Orcan Energy. "This makes the solution efficient to install and easy to scale up," adds partner Gé Janszen (Agent G|ENERGY).
Asked by Van Hooft how both parties see the future, Straatman replied, "This technology certainly sounds interesting. I am happy that we have been able to take a first step via this route. But more is needed. I still miss the overall picture around costs. More research is needed to see if collaboration can succeed." To this, Lintl (Orcan Energy) nodded affirmatively: "We are happy to enter the conversation to see in more detail what we can do".
Also working with the Fieldlab Industrial Electrification?
Explore strategic opportunities and realisation of projects focused on process and supply chain integration, in cooperation with relevant supply chain partners. Participate in joint studies and projects that determine the future of this cluster and your customers, helping to implement the necessary technology.
Intended partners of the FLIE are organisations with an interest in making the process industry more sustainable. These could include:
End users looking to (partially) electrify their processes,
Energy companies looking to test new services,
Technology companies looking to demonstrate their innovation in practice or otherwise.
As a partner, you offer technical, content, administrative and/or financial support.
We are happy to help. Please contact us via this link contact us.