E2C Stakeholder Event 3: Bringing Power-to-X to Life - Connecting Technologies and Sectors
Jeroen van Woerden (Strategic Advisor) was quartermaster in the creation of the Fieldlab. Van Woerden believes that results can be achieved quickly in small steps. Not so long ago, nobody was talking about it, but now there are many initiatives in the field of electrification of industrial plants. In the webinar, he took the audience through how these initiatives can move on to concrete implementation in the region.
Furthermore, as a panel participant, he interacted with experts from the market about the changes needed within the Power2X field to activate more organisations to move to new technologies. Watch the webinar back below.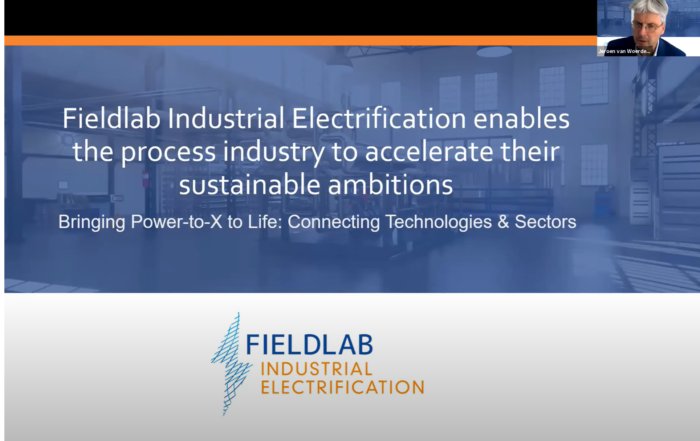 The aim of the Fieldlab Industrial Electrification is to accelerate the development and implementation of innovative technologies in the value chains of the Rotterdam-Moerdijk industrial cluster. The Fieldlab can help companies in the process industry get started with industrial electrification by sharing unique knowledge and providing technical facilities to make innovative technologies market-ready. The Fieldlab Industrial Electrification is an initiative of FME, Deltalinqs, TNO, InnovationQuarter and Port of Rotterdam. The Fieldlab is made possible by the European ERDF grant and the support of the government, the province of South Holland and the municipality of Rotterdam.